The Challenge
The UNICEF Tap Project is based on a simple concept: restaurants ask their patrons to donate $1 (or more) for the tap water they usually enjoy for free. All funds raised support UNICEF's efforts to bring clean and accessible drinking water to millions of children around the world in countries such as Haiti, Togo, Central African Republic, Vietnam, and Guatemala. Under a tight deadline of only three weeks, the Tap Project turned to Beezwax to help build crucial new community features to coincide with the impending launch of their website to support this important initiative.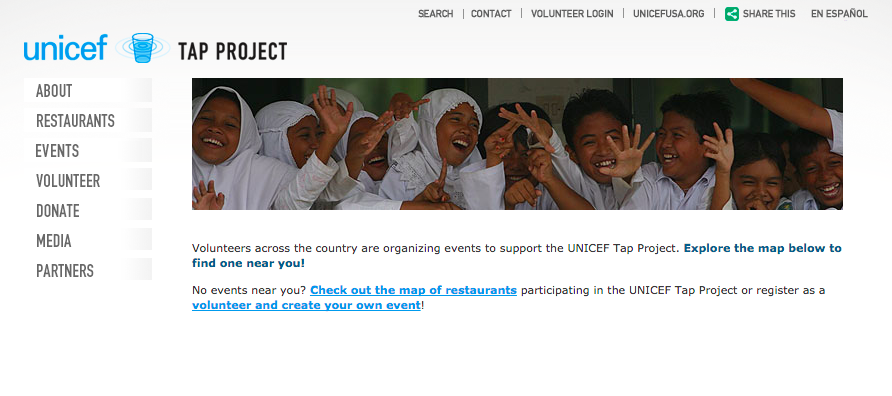 The Beezwax Solution
We provided customized Google Maps integration that fit into their existing web framework, allowing volunteers and restaurant-goers to find participating restaurants the moment the Project launched.
Additionally, Beezwax was asked to enable volunteers to create their own related events on the Tap Project website, to be displayed on a separate map. We configured and customized a new server to handle this functionality and integrated it with their existing CMS (Content Management System).
The Success Story
Despite the extremely tight deadline, the site was launched on time with this important high-profile functionality.
The previous version (developed prior to Beezwax) involved significant headaches for the UNICEF staff and the new solution works flawlessly, reducing staff time and stress during the vital launch period and beyond.
The staff at UNICEF were extremely pleased with the work and enjoyed working with the Beezwax development team.
Within a week of the site's launch, the deadly Haitian earthquake hit and UNICEF was there to help distribute water and other needed goods. Thanks to the on-time delivery of the project, the site provided an immediate way for people to directly impact the earthquake recovery effort and help Haiti.